About Inspire Nature Teacher CPD
Bring the wonder of the University of Cambridge Museums and Botanic Gardens into your classroom to explore the natural world around you and connect creatively with nature.
Inspire Nature is a teacher CPD programme created and delivered by the university museums and garden. A suite of resources have been created for teachers around the themes of Water, Rocks, Viewpoints, Trees and Skies.
Each set of resources focuses on relevant objects from the collections. The resources include high resolution images, information, videos, question prompts and activity ideas for yourself and your teaching, created by both museum educators and artists.
This page highlights the resources created for the Skies theme. It focusses on objects in the Fitzwilliam Museum collection, but our padlet below shows resources from the Whipple Museum of the History of Science, the Sedgwick Museum of Earth Sciences, the Polar Museum, and the Museum of Archaeology and Anthropology that can teach about space exploration, careful observation, measurement, and light and shadow.
Information about the paintings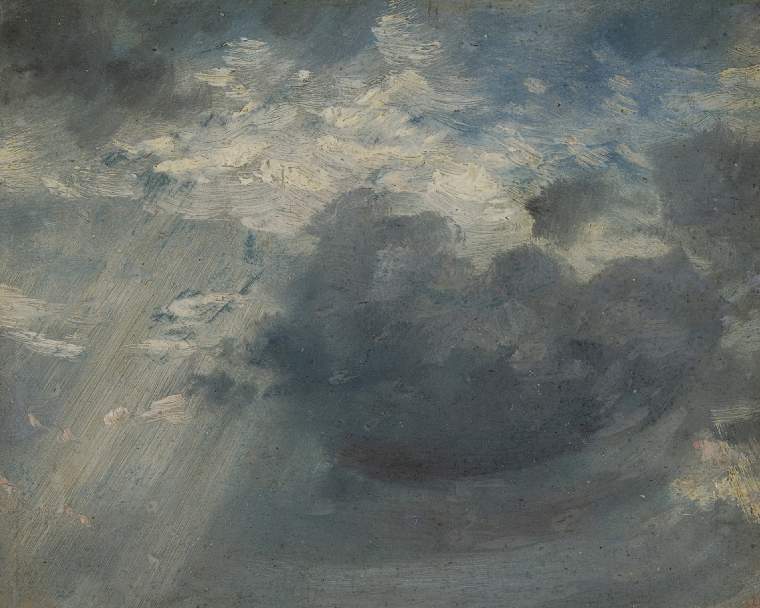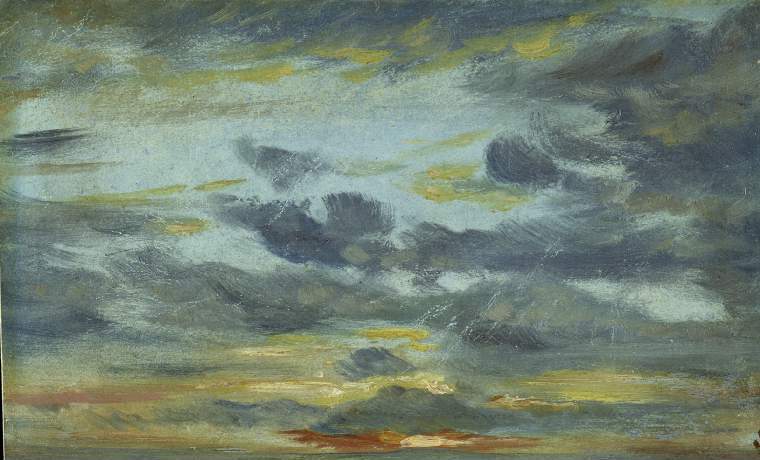 Sky studies by John Constable
Constable was born locally in Suffolk, the son of a corn and coal merchant and farmer. He was largely a self–taught artist, and after submitting sketches he made on a tour of Norfolk he was accepted to study at the Royal Academy Schools in London. He devoted much of his life to painting the local landscape. His determination to capture the rural Suffolk landscape of his boyhood might in some part have been due to a sense that this way of life was changing due to rapid industrialization – the factories, steam power and locomotives that appear in works of other artists of the time, such as JMW Turner, are absent from Constable's paintings.

From 1819, Constable rented a house for his family on the leafy edge of London in Hampstead, due to his wife's ill heath. Between 1821 – 1822 he started making direct studies of cloud formations in the open air, like these examples in the Fitzwilliam Museum collection. Constable used the specific term 'skying' for his field exercises. He advises that in order to be accurate you must 'not to go too much into detail. Because the sky changes all the time, one cannot work longer on a sketch than two hours; for a sunrise or sunset the maximum is half an hour.' You can see the rapid brushstrokes in these works. These little oil sketches would have fitted into the lid of Constable's outdoor painting box. He would have rested the painting box on his knee and use the lid as an easel.
Some scholars attribute Constable's interest in clouds to the fact he was a miller's son and knowing which direction the wind would blow was important in the adjusting of the sails of windmills. However, it is also known that he was interested in new scientific advances in meteorology, and read the writings of Luke Howard and Thomas Foster who published the first systematic classifications of cloud forms. Constable's oil studies of skies show a remarkable understanding of the structure and movement of clouds. Some say they should be regarded as 'mirrors of the sky' as many record the time and date on the back and so can be matched to the weather records of that day.
Prompts to Stimulate Enquiry
How do you

think clouds

are

made?

W

here do they come

from? What stops them falling

down on us?

Clouds come in all sorts

of

different sizes and shapes.

H

ave you ever noticed

anything you recognize in

them?

Why is it i

mportant to track

clouds? W

hat can they help us

to

predict?
Activity Ideas
Investig

ate the 10 main types of clouds. They can

be

recognized by their height, c

olo

ur, shape and

the

weather

conditions

.

Try inventing a cloud bingo game.

How many

different

blues can you see in the sky? M

ake your

own

cyanometer

using

these instructions

to help you track

them.

Explore creating your own 'Skying' studies with a mirror or

whilst lying on the ground. Which method

work

best for you?

Make

a cloud print. Cover your printing block with ink and

collect

natural objects

to

make different textures. What

different effects can you create

?

M

odel

your own cloud in a

jar to explore the different shapes

of clouds.
Watch: Museum educators present about each object
Downloadable resources