About Inspire Nature Teacher CPD
Bring the wonder of the University of Cambridge Museums and Botanic Gardens into your classroom to explore the natural world around you and connect creatively with nature.
Inspire Nature is a teacher CPD programme created and delivered by the university museums and garden. A suite of resources have been created for teachers around the themes of Water, Rocks, Viewpoints, Trees and Skies.
Each set of resources focuses on relevant objects from the collections. The resources include high resolution images, information, videos, question prompts and activity ideas for yourself and your teaching, created by both museum educators and artists.
This page highlights the resources created for the Water theme. It focusses on objects in the Fitzwilliam Museum collection, but our padlet below shows resources relating to the large fin whale skeleton from the Museum of Zoology, a sculpture of Inuit goddess Sedna from the Polar Museum and a cast of a bronze statue found in a shipwreck from the Museum of Classical Archaeology.
Information about the artworks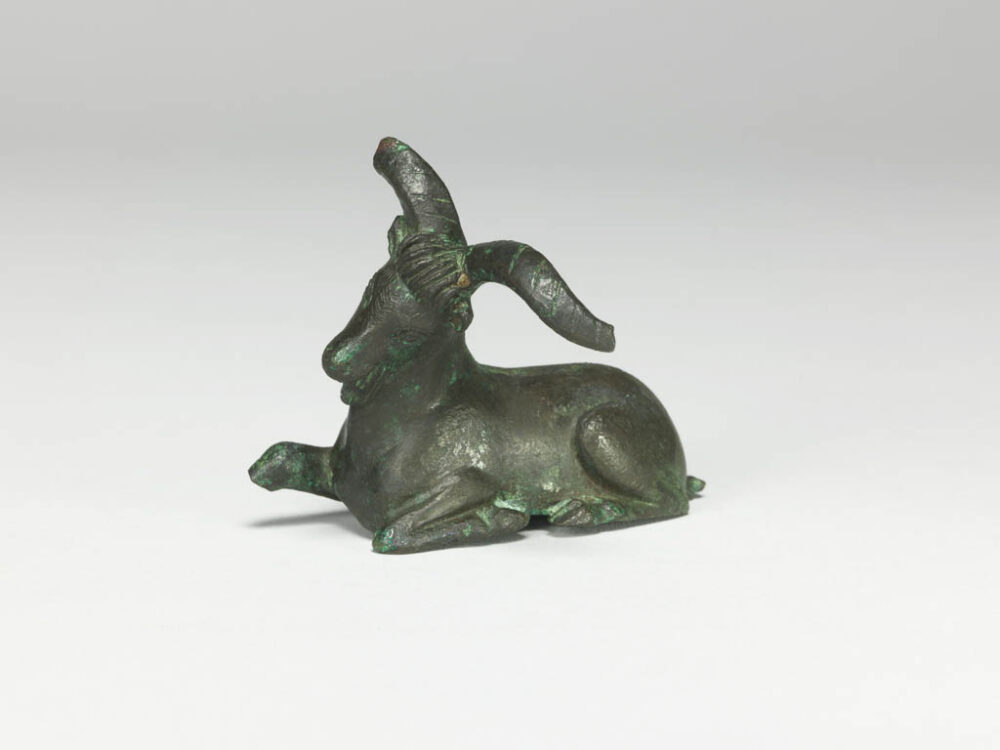 Goat Statuette, unknown maker
This tiny palm–sized goat figurine could be held in the hand. It is cast in bronze and would be cool to the touch. It is natural in appearance, sitting on the floor with its legs tucked underneath, head turning around to the side, and its front leg is out in front as if it is starting to stand up. Archaeologists have found huge numbers of these votive animals in areas which are now dry, but used to be the places of rivers and streams. We think that the Ancient Greeks thought of streams, groves and rivers as magical or sacred places where the gods and goddesses could be communicated with. They believed that giving by placing these special animal tokens into the water, they might be granted a wish or a prayer. This might have been to keep their animals safe and strong, or perhaps to make sure they had plenty of young animals for the farms. They hoped that the gods and goddesses would see their wishes in the shape of these animal creatures, and protect them. Some people also think that the tiny animal statues could have been given as thanks as well as wishes for the future.
The Fitzwilliam Museum has a lovely collection of these votive animals, which are often full of character like this tiny goat. The collection includes include bulls, dogs, goats and others animals.
Rough Sea beside a Jetty, Carl Sørensen
Carl Frederik Sørensen was one of the most well-known Danish marine painters of his time. He was recognized all over the world, exhibiting at the Paris Exposition Universelle in 1855 & 1878, and at the Vienna Exposition in 1873.

As a young painter, training at the Danish Academy in Copenhagen between 1843–46, he would take regular summer breaks to the coast to sketch. He would then work these sketches into larger oil paintings back in the studio during the long, dark winter months.

He also went on long sea voyages around the world and painted what he saw, including to the Mediterranean, the Netherlands, Germany, France and England. He had a special interest in the weather and it's effects on the sea and developed his own recognizable style which you can see in this painting.

In this painting he pulls back from the sea at a high vantage point, so the storm watchers huddled by the jetty appear small. He uses the static form of the jetty to capture the movement and collision of the waves. The wind whips the wave crests into plumes of spray as they surge to shore, all captured with quick spontaneous broad brushstrokes. You really get the impression that Sørensen understood the sea, its currents and unpredictable nature.

It seems as if he was quite happy with the painting when he finished – he scratched his signature and the date with the end of his brush in the bottom right corner while the oil paint was still wet.
Prompts to Stimulate Enquiry
1. Goat Statuette, by unknown maker
Think of

a

beautiful watery

place in nature that you know.

Which creatures might make

this place their home?

Describe the water. How does

it feels when you listen to

it?

What does it smell like?

 

Close your eyes and

imagine

sitting

near a trickling stream,

a big

rushing river or a st

ill

quiet pool. How do you feel

?

How do

you think that looking

around us at nature helps us

t

o think about ourselves and

our world?
2. Rough Sea beside a Jetty, Carl Sørensen
People have tried to capture

w

ater in art for centuries.

H

ow do we show something

that is transparent and

always changing?

If you could step into

this

painting what could you

hear, smell or touch? How

do you feel in this painting?

W

here would you stand?

Is water always blue?
Activity Ideas
1. Salisbury by John Constable 
Can you think about other st

ories about water that you know

?

Cho

ose an animal that you love. It

might be a wild animal that

you admire and want to

protect, perhaps a

leopard,

a

dolphin,

or a bee. Or

it could be a

pet that you love or wou

ld like to

have in your family such as a cat, dog, rabbit, mouse.

Can you

try to make a

model of your creature? You could use a soft

material like clay or perhaps

play doh, blu tack, sa

lt dough, 

plasticine, or fimo.

Make the animal exactly as you want so that it is special to

you. Enjoy the modelling.

 

Now c

reate or find a special place for your animal.
2. Rough Sea beside a Jetty, Carl Sørensen
Investigate the painting with creative writing. What

nouns can you see in the painting? Can you think of

three

a

djectives to describe each noun?

Can you

make a group

poem out of your words? W

hat happens if you change

the order of the words or take one away co

mpletely?

Create

art inspired by

the

sounds

all around you

. Listen to

the sounds of the sea and draw

what you imagine.

Make your own soundscape by investigating the sounds

you can imagine

in this painting

.

S

ø

rense

n s

tudied

the effect of weather on water. C

an you

imagine and draw what this

scene

would look like in

different weather and different times

of the year?



Watch: Museum educators present about each object
Downloadable resources